We value our patients' experience at Chiropractic Plus. If you are currently a patient, please feel free to complete the following Client Experience Questionnaire. The Questionnaire is in Adobe Acrobat format, and requires the free Acrobat Reader to view.
Download & Print Questionnaire
Dr. Sean A. Horvath, DC
---
Lower Back Pain & Leg Pain
I am a 64-year-old manager in the construction industry. About a year ago I started experiencing pain in my lower back, leg, and foot. I was referred to an orthopedic back specialist by my family doctor and was diagnosed with degenerative disc disease due to arthritis. After months of pain pills and anti-inflammatory medications my condition was NO better. A friend told me about a Chiropractor who helped him, and so I made an appointment. Although I was skeptical at first, Dr. Horvath made me a believer. He was very gentle and conservative in his treatment. A few weeks into the treatment I noticed a marked improvement in my range of motion, and I no longer needed any pills. I most sincerely recommend Dr. Sean Horvath for anyone who is experiencing similar problems, as he has helped me tremendously.
- Stephen M., Valparaiso
Pain and Numbness in Arms and Hands
When I first came to Dr. Horvath I had made up my mind that I wasn't going to admit how much pain I was having, because I was afraid they would lock me into a prolonged treatment program that I couldn't afford. When Dr. Horvath checked me out and asked me to bend my head forward, I had to tell him that "my head doesn't bend that way". Even at that point I thought I could still pull it off, and that maybe just one treatment would get me back in shape and I wouldn't need any other treatments.
Dr. Horvath was so kind and considerate and that he took away all my fears, he worked with me and got me to become an ACTIVE participant in my own care and healing. Everyone in the office always treats me as though they really care whether or not I am getting better, and they do everything they can to help make that happen.
Before starting treatment with Dr. Horvath the pain from my neck was so severe and was moving down my arms and into my hands, to the point where I was having difficulty doing my work. In a very short time, with the weekly regimen of treatments and exercises, the pain was alleviated and I have had no problem with the motion in my neck, arms, and hands.
I have become a real believer in Chiropractic and Dr. Horvath.
I highly recommend to anyone who is experiencing this kind of pain, that they give Dr. Horvath a call! He will work with you to provide a payment plan that fits your budget, and a treatment plan that will have you feeling better than you have in years!
- L.D., Crown Point
It Wasn't My Knee After All!
I would like to thank Dr. Horvath and his staff for getting rid of my crutches. A while back I went to my doctor for severe pain in my left knee. I was afraid it was going to require surgery, so I had been putting off going. My doctor diagnosed me with a torn meniscus. He prescribed anti-inflammatory medication to reduce the swelling, and recommended an MRI. The pain continued and I was told to wear a knee brace, followed by crutches to keep the weight off my knee.
While all of this was going on, I decided to give Dr. Horvath a call as I had seen him for other problems in the past. Dr. Horvath evaluated me and took some x-rays of my lower back, explaining that some knee pain can be caused by spinal misalignment. These x-rays were compared with ones take about a year earlier. The change was not good. Three of my vertebrae were damaged. Dr. Horvath suggested I have my back treated as well as my knee. However my knee pain was so severe, I decided to have the MRI my family doctor had ordered. With continued pain and more pain medication... I gave in and returned to Dr. Horvath to begin treatment. After the first treatment, the pain in my knee decreased significantly. After three visits I no longer needed the crutches, and two weeks later the brace was no longer necessary.
The funny thing is, when the MRI results came back they showed my knee was fine. Dr. Horvath was right, it wasn't my knee after all! Thanks for getting me back on my feet doc!
- Paul S.
Back Pain with Burning and Numbness in Hand
In March of 2009 I decided to clean my house. Not realizing that moving furniture and scrubbing walls would be more than my back would like me to do, after the 3rd day I could hardly breathe or move without severe pain. I learned of Dr. Horvath through my daughter's friend who is also a patient, and highly recommended him to help me.
I was able to get an appointment really quickly, and Dr. Horvath wasted no time trying to locate the problem.
Dr. Horvath watched my progress very closely. After several very affordable sessions, his concern for my progress led him to believe I needed an MRI to further evaluate the problem since the treatment was not resolving the issue as quickly as he thought it should. After reviewing the results of the MRI, he did not want to wait too long for me to get relief, so I was referred to an orthopedic surgeon for further help. Dr. Horvath worked together with the surgeon and they brought me back to a Well condition.
The pain in my back, neck, arm and hand that brought me in to see Dr. Horvath is now greatly improved and I am very thankful to have found such a wonderful Chiropractic Office with a great staff who treats you with such care and concern.
- Juanita W., Hammond
Still Getting it Done in the Cage and on the Job!
I went to Dr. Horvath a few years back for my first appointment for lower back pain. I didn't know what to expect and honestly thought I would be wasting my time. Being a full-time police officer and part-time mixed martial artist/fighter I thought I would always be in pain due to my outside activities and job. Dr. Horvath sat me down and explained to me what was causing the problem, but also took the time to explain what preventative measures to take to stay healthy. Dr. Horvath is not a fly by night chiropractor who adjusts your back and sends you on your way without any conversation or concern. I recommend anyone who has an active lifestyle to go visit him for a consultation. He is not only knowledgeable in is his profession, but very educated in total wellness and sports specific related areas. I want to thank Dr. Horvath and his staff for keeping me healthy and able to be competitive in full contact sports at the age of 38.
- Donnelle E., Merrillville
BEST CARE POSSIBLE for Back Pain & Neck Pain
About 3 years ago I was having severe back and neck problems. Two of my coworkers referred me to Dr. Horvath, and I have been seeing him since then for the treatment of back pain and degenerative disc disease in my neck. After seeing my close family members have less than desirable quality of life due to constant pain and restrictive movement in the neck, I knew I needed help. After just a few treatments I began to feel better. Dr. Horvath is very knowledgeable, he has taken the time to explain treatments given, and has taught me exercises and stretches to increase my flexibility and strength. He has been very supportive of my undertaking P90X, which is an extreme cardiovascular workout done over the course of 90 days. About 7 weeks into that workout I suffered a back injury while lifting weights. Dr. Horvath and his staff immediately worked an my back, after 5 treatments I was back to 100% and working out again without any restrictions. I feel stronger, more flexible, and more importantly, pain free! I highly recommend Dr. Horvath and his staff to anyone having any back, neck, or other physical problems. You will get the BEST CARE POSSIBLE!
- Edward L., Hammond

Chronic Migraine Headaches
As a migraine sufferer of over 10 years, I have tried nearly every migraine medication as well as other natural and over the counter fixes. While some worked, they would only help for a short time before they stopped working and my migraines returned full force.
I began seeing Dr. Horvath as a last resort. My migraines had become so debilitating that I was missing a few days of work each month, unable to even get out of bed for at least 24 hours. Although I had faith in chiropractic care, I was not expecting great results, knowing that my migraines were so severe and I hadn't yet found anything that really worked to fix them.
Dr. Horvath proved to be immensely knowledgeable when it comes to migraines. Having encountered many doctors over the years who didn't understand what was so bad about a "headache", it was a relief to find a doctor who not only understood how bad migraines can be, but outlined a treatment plan after explaining why my migraines were so severe.
Since I began seeing Dr. Horvath, my migraines have decreased from multiple migraines a month to almost none! To say that his care has been a blessing in my life would be an understatement. I would highly recommend Dr. Horvath to anyone suffering from migraines. The ability to go months without so much as a headache has been much more than I could have hoped. My only regret is not seeking out chiropractic care much sooner!
- Erin C., Hebron
14 Weeks Pregnant and Terrible Leg Pain!

I was about 14 weeks pregnant and started to have terrible shooting pain in my lower back and down through my leg. I had been to Dr. Horvath for other things in the past, so I decided to see him again. Come to find out it was my sciatic nerve. Within one week of treatment he helped me tremendously! I was able to function comfortably again. I finished my treatments and continued periodic adjustments throughout my pregnancy. Without Dr. Horvath's help I don't know what I would have done! Thank you so much!
- Megan C., Gary
Dr. Horvath Really Knows His Job & Cares About People!
I own and operate a lawn-care business, and first started seeing Dr. Horvath for numbness in my right index finger and thumb. I was not sure what to do, but had already been to the doctor to rule out any heart problems. Along with the numbness in the fingers, I was suffering from severe loss of motion in my neck. It was getting to the point where I couldn't turn my head to see while backing up my truck and trailer. Dr. Horvath did a very thorough evaluation, examination, and x-rays. I am so impressed with the treatment and care I have received, that I've recommended him to other family members. In a nutshell, Dr. Horvath has a wonderful bedside manner. I trust him, and my positive results show his skill. I feel 100% now with no numbness and full mobility. I no longer have the pain and discomfort that I had resigned my self to live with. Dr. Horvath is also sensitive to his patient's budget and financial needs. He really knows his job and cares about people! I really can't say enough good things about him.
- Daryl B., Valparaiso
Unbelievable Results!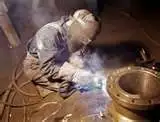 I am a Union Boilermaker. Our trade works in the steel mills, power generating stations, and oil refineries. Heavy lifting and working in confined spaces are common working environments for me.
I hurt my lower back more than a year ago, but did nothing about it. It just caused some discomfort once in a while, so I did not think much of it at the time. One day not long ago, I was working at US Steel and I stood up and turned to do something, I had this shooting pain that went down my leg and I could barely walk! The company sent me to their clinic and their doctor told me I had a "Pulled Lumbar Muscle". I am no doctor, but I knew this leg pain was not from any pulled muscle. So I took matters into my own hands and considered chiropractic care.
I had heard many bad testimonies from other people and co-workers about seeing a chiropractor. "They don't do anything". "They just keep you feeling good for the next visit"... I am sure all of you have heard them too, but let me tell you "DON"T BELIEVE THEM".
I could not believe how Dr. Horvath was able to get me back on track with the amount of pain I was in, my wife had to help me into his office! Dr. Horvath was very good and explained everything about my injury. I had a slipped disc that was pinching a nerve. Within a short time, with treatment and exercises I am back to work and have had NO PAIN. Just like it never happened! I like to chuckle about the big bottle of pain pills on my kitchen counter. It is still full of pills! I recommend chiropractic to everyone, because who wants to be cut up or on medications their whole life!
- Steven, Crown Point