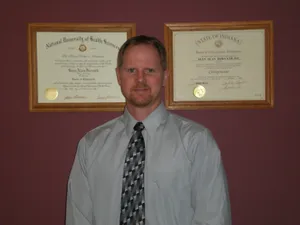 All too often it is the Doctor that gets all of the information about the patient, and the patient gets little to no information about their Doctor. I would like to take this opportunity to change that...
My name is Sean A. Horvath. It has been a lifelong dream of mine to become a Doctor, and it has been quite a journey. Here is a little about my story.
I was born and raised in Northwest Indiana, better known as "The Region". I graduated from Lake Central High School in 1991, and went on to study Biology and Chemistry at Purdue University Calumet, and finished my Bachelors Degree at Indiana University Northwest. After graduating with honors from Indiana University, I was accepted at National University of Health Sciences in Lombard, IL. In December 1998 I earned another Bachelors Degree in Human Anatomy. Two years later in December 2000, I graduated Magna Cum Laude with my Doctorate of Chiropractic.
Just before graduation life got even better, a good friend of mine introduced me to an amazing woman. Amy and I were married in June 2002. We now have two beautiful children and a dog.
Shortly after graduation in January 2001, I became a licensed Chiropractor in the State of Indiana and opened Chiropractic Plus Complete Wellness Center in Merrillville, IN.
I have been freeing people from pain in my clinic in Merrillville, IN for several years, and also opened a second location in Valparaiso, IN in June 2009. Having both locations allows me to better serve the people of Lake and Porter Counties.
As a Chiropractor with experience I am committed to promoting optimal health and well being of patients. I have a strong desire to help educate my patients about their conditions and ways to better care for themselves. At Chiropractic Plus we use the "whole person approach". This approach to wellness means looking for underlying causes of any disorder (which may or may not be causing symptoms at the time) and make whatever interventions and lifestyle adjustments that would optimize the conditions for normal function. Using this technique I am able to help you accelerate and/or maintain your journey toward good health!
I look forward to meeting with you, and working together to get you where you want to be, in a much healthier place!
Sincerely,
Dr. Sean A. Horvath